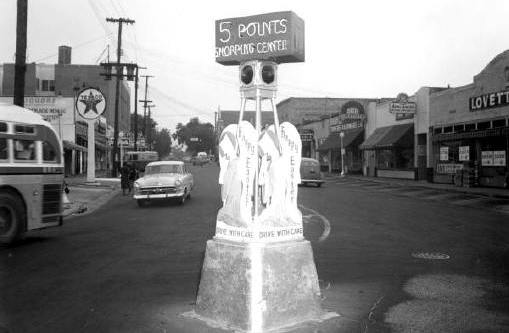 The picture to the right shows the Five Points intersection in 1953 decorated for Easter with Angels. The Texaco Gas Station is now The Derby House Restaurant. Fan's and Stove's Antique is now where Lovett's grocery store is in this picture. The picture below it shows the Five Points intersection as you see it today. As you can see the five points, shopping center sign has been removed and the keep right signs have been placed over the mosaic tiles.
Five Points Merchants Association for Five Points 50th Golden Anniversary celebration was hosted by closing the street for a couple of hours. It was celebrated for a month between August 15 - September 14 during sometime in the late 1960's to the early 1970's. The guest speaker was Florida State Senator, John E. Mathews.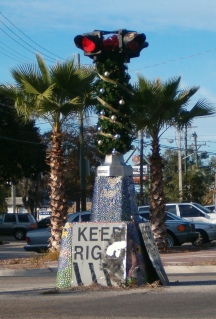 As time went on the area started to fall with merchants having to close due to lack of business. The area was being plagued by graffi during those falling times. The Five Points area was in desperate need of improvements when in early 1986 Riverside Avondale Preservation, Inc. (RAP) appointed a group to coordinate the revitalization. The improvements were to include facade and sidewalk improvements, new signs, landscaping, cityscape lighting, and parking options. RAP, the Community and the Merchants worked together to make this happen. When you walk through 5 Points you will see the new sidewalks, trees, cityscape lighting and the angled parking spaces to accommodate more vehicles on the street. Several unusual murals were painted on the side of merchants buildings to bring color to the area.