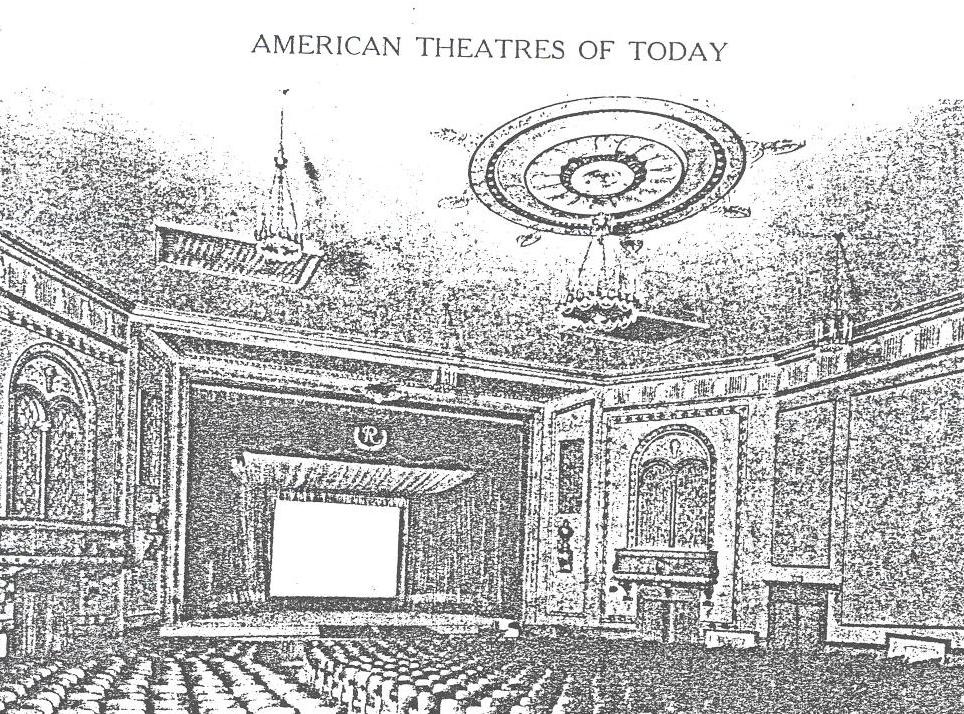 The Theater opened in 1927 as the Riverside Theater. To your left is a sketch of the inside of the theater when it first opened. Originally, the interior of the theater was Venetian and featured two decorative arched balconets, a wide frieze band, and prominent crown molding. On the center of the ceiling were ornamental plaster rosettes where two Czechoslovakian crystal chandeliers hung costing $5,000 each. It was the first theater equipped to show talking pictures in Florida and the third nationally. They equipped the theater with a devise called the Vitaphone. The Vitaphone was developed by Western Electric in conjunction with Warner Brothers Pictures to synchronize sound and film. The first movie the theater debuted the Vitaphone with was the movie Don Juan featuring John Barrymore. To cover the cost of the Vitaphone admission went up from 25 cents to $1.10. Because of the increase, the theater did not draw the business required to cover the cost. The Vitaphone had to be moved to the Imperial theater downtown Jacksonville. The theater did not make it and closed during the 1930' and re-opened as a neighborhood movie house only to close again in the 1940's.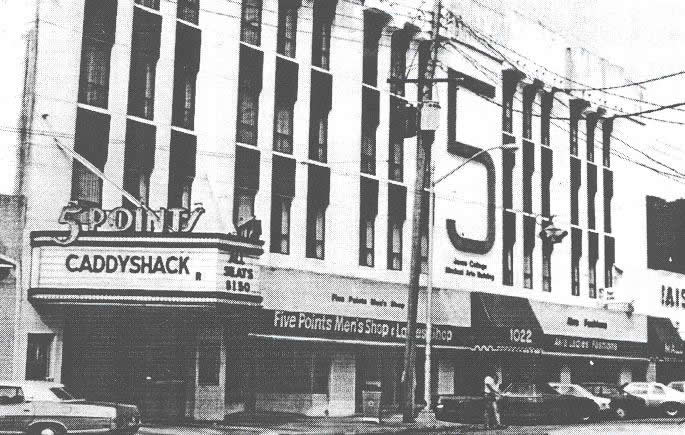 The theater was remolded and re-opened in 1949 but this time with a new name, Five Points Theater. It was one of the first in Jacksonville to provide a smoking lounge with push back seats. The theater later provided Cinerama and stereophonic. In 1972 the theater under went some renovation changing the original Gothic Revival Design. The theater was still showing films until the doors closed in 1977 when it could not compete with the suburban multi-screens. In 1984, the theater re-opened to house a professional theater group, the River City Playhouse. The River City Playhouse lost there place in the Five Points theater when Club5 Inc. leased the theater for three years in 1991. In 1991, the theater re-opened, but this time it was to make way to a music stage. The doors opened to what was known as Club5 a nightclub that brought in music from jive to rock. In 2004, the Planning and Development Department recommended that the Jacksonville Historic Preservation Commission approve the designation of the Riverside (Five Points) Theater Building as a City Jacksonville Landmark.
Today, they have plans to convert the current theater space to a restaurant and lofts, office and retail space. The site is currently under construction and will be complete in about a year. The estimate cost is $4.5 million in renovations. The price covers the renovation and property cost. The Jacksonville Historic Preservation Commission has already considered the building for a landmark. Whether it is now a landmark is still unknown to us. If it does become a landmark the Jacksonville Historic Preservation Commission will apply for federal historic preservation tax credit, local property tax abatement and a possibly of city incentives. The picture below is a proposed building layout after renovation is complete.
Picture Credit ::
Florida Times Union
Kenneth Smith Architects Inc.
Jacksonville, Florida